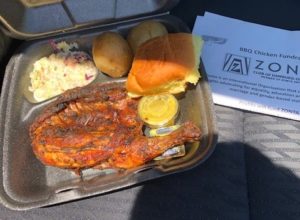 Carrubba's Drive Thru Chicken BBQ: Thursday, May 25th 11 AM – 5:30 PM or until sold out. $15.00 at Tops Markets Parking Lot, 3201 Southwestern Blvd in Orchard Park. Profits will fund scholarships and Domestic Violence Awareness Programs.
Contact us at [email protected] for pre-sale.
We assembled birthing kits for third world countries to provide a clean birthing environment for mother and child. District clubs receive several requests from Medical Women International, Global Links, World Vision and the United Nations for these kits. We shipped 1,750 kits to Nicaragua in October 2020. We will assemble kits again next spring.
We prepared two dozen Birthday Bags for a local Food Pantry providing the items needed for a birthday party for children. We have also collected items for the Bread of Life Outreach Center and Journey's End.
Members prepare dinner for patients' families staying at the Grace Guest House. We have also volunteered to assist with their events.
In the past club members prepared dinner at the Ronald McDonald House for families whose children are hospitalized. We have continued to donate to them.
Our club participated with other clubs in the 16 Days of Activism from November 25th through December 10th to raise awareness of violence throughout the world.